Manolo says, one of the Manolo's many internet friends has sent the Manolo the link to the article about the wedges.
They're edgy. They're wedgy. And they're sending fashion-forward women tipping and toppling like Star Skater Barbie.

The "wedge" — with cork, wood or woven bamboo elevated soles — is the height of summer footwear. Wedges range from $58 at Nine West to designer Isabel Fiore's $300 straw platform sandal, which measures in at a staggering 5 inches tall. Women falling for the fad are suffering from sprained ankles and other injuries.

"I've had two patients in the last 10 days who have slipped off their wedges," said Dr. Rock G. Positano, a celebrity podiatrist in New York.

The doctor said both patients were young women who had sustained twisted ankles. He is advising patients who wear the wedge heels to do so for short periods of time, at a pool party or the beach, and not to attempt to stroll for blocks in them.

"And I'm afraid, with vacation time coming up, many women are going to take them for sightseeing. They're just asking for trouble," Dr. Positano said. "These shoes affect a person's ability to know where the ground is. They don't have that mechanism anymore. There's no stability."
"Ayyyyyy!" the media scream, "the beautiful shoes they are too high! The womens they will fall off of their shoes and will break their dangerously fashion-obsessed heads, and all the "celebrity podiatrists" in the world, they will not be able to mend the damage!"
Pah! says the Manolo. Once again, the groundless panic about the shoes of style it has invaded the brains of the reporters during the period of the slow news.
It is obvious to the Manolo that the reporter she does not know the shoes well if she thinks the $300 wedge is most expensive. Here, for the counter example is the slightly more pricey wedge from the Giuseppe Zanotti.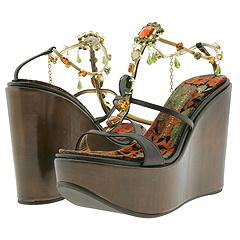 P.S. Manolo says, many thanks to the Manolo's internet friend the Victor for the link.
0