By Manolo the Shoeblogger
Manolo says, one of the Manolo's internet friends the Rob D. has left the question on the blog of the Manolo.
Forgive me for being off topic, Manolo, but what do you think of the new single color Rod Lavers that have come out recently? Do you think the black one would be acceptable as the dark colored tennis shoe? Do you like the all white Rod Lavers, or should I still buy the ones with a little color in them?
As the Rob D. may know the Manolo he is the dedicated and long time fan of the Adidas Rod Lavers. (In the fact, the only people who love the Rod Lavers more than the Manolo are the players of the hacky sack.)
For the Manolo his favorite version it has always been the leather with the navy blue trim.


Sadly, this classic shoe it is no longer available.
Instead, recently the Manolo was forced to purchase the nylon mesh version in the white with the orange and green trim.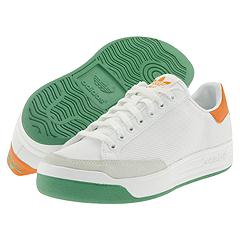 Much to the Manolo's dismay the mesh it quickly becomes dirty, and as one would imagine this does not please the Manolo, who as the creature of cleanliness and habit wishes he could have another pair of the easily-cleaned, leather Rod Lavers.
Worse, now, the mere months after the Manolo he has purchased his latest, and unsatisfactory pair of the Rod Lavers, Adidas introduces many different versions of the Rod Lavers.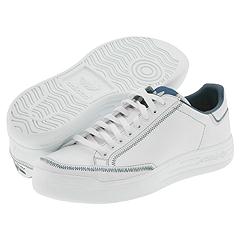 Look! Rod Lavers in the black, and in the high tops, and in the "stitch", and in the "bone with the true blue" but no simple leather with the navy trim.
So in the answer to the Rob D., the Manolo does not like the black, nor does he like any of the shoes with the nylon mesh top. What the Manolo prefers most of the all he can no longer obtain.
Finally, when the Manolo he wishes to wear the dark sneakers he favors the Puma Clydes, another of the sneaks of the old school which are virtually unobtainable in the versions the Manolo prefers.
0