By Manolo the Shoeblogger
Manolo says, please forgive the Manolo as he had to briefly step away from the blogging this weekend to attend the fancy semi-society wedding on the Main Line in the Philadelphia. The best man he was the New York muy famoso.
Of the course, the trip it included the visit to the King of the Prussia Mall for the shopping extravaganza with the Posse Manolo. It is not the secret that the Manolo he rarely enters the malls, but there are the precious few (The Mall of the Short Hills, the Galleria in the Dallas ) for which he will make the exception.
To the mind of the Manolo, this pair of the daring shoes of the Giuseppe Zanotti, was the best purchase of the trip. (That and the little something the Manolo he had to purchase for the Manolo himself.)
This shoe it good because it is on the exact border between the trashy and the classic, where, as the long time readers of the Manolo know, the true fashion lies.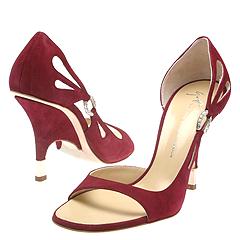 Once in the while the truly fashionable girl she must cast out the book of the rules and chart her own course in the matter of the footwear, she must defy the convention, and the staid and the stultifying rules of the mob.
0