Manolo says, the Manolo he has decided to do the purse blogging for the Christmas, so that perhaps his gentlemen readers will have some idea of what the womens in their lives may appreciate. Trust the Manolo, nothing says "Merry Christmas, Honey, Your Husband He is Not the Clueless Lout!" like the appearance of the designer bag under the festive tree.
The Manolo, he absolutely adores this suede shoulder bag with the shearling trim from the Hogan. It is very, very rico suave, so muy rico suave that the Manolo he feels he could crawl inside and take up the residence in it's capacious, yet cozy confines. This it is the winter bag that will be brought out each year at the first hint of the tiniest nip in the air, so eager will she be to carry it.
The hobo bags they are raging this season, and so the Manolo he has tried to pick out the prettiest of the the hobo bags for your consideration. This one it is the velvet hobo bag from the Marc Jacobs. Is it not both very soft and very feminine? It would be the right bag to accompany many of the flowing, womanly styles of this season.
Here is another of this season's unstructured shoulder bags in the suede, this one from the Pollini. For the Manolo it is the details of the contrasting leather on the straps for the shoulder that make this stand out from the crowd.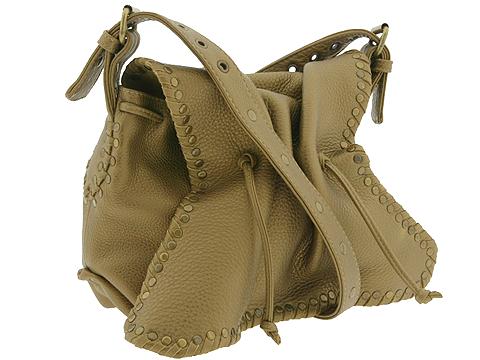 Here is another of the soft, unstructured bags that the Manolo is so fond of for this season. This one it is from the Carlos Falchi. The leather it is wonderfully supple, and the details they do not overwhelm the basic good looks of this bag.