Manolo says, one of the Manolo's internet friends has asked the Manolo the question.
Dear Manolo, I love your blog and I value your advice, so here is a question for you. I will be living in Strasbourg, France for the month of January. It'll be very cold and very wet, and I'll be doing a lot of walking on cobblestones. Can you recommend a super fantastic pair of boots for me? — Rachel
Strasbourg in the January, it is not exactly the April in Paris, however, no matter what the weather, it is always the right time to visit the France.
For the Manolo this question it is difficult because his friend failed to give the Manolo some indication of her age, or her personal style, however, keeping this in the mind, the Manolo he will recommend two pairs of the boots suitable for the cold, wet conditions of the European winter.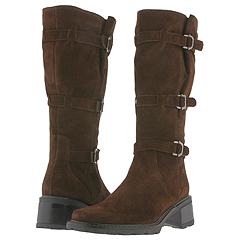 This boot from the Aquatalia, it has its own rough and ready yet stylish aspect, with the heavy rubber sole and waterproofed suede, that the Manolo thinks would be appropriate for invading France in the winter. The problem with this boot, it is that it cannot be easily dressed up for the fancy dinner at the Michelin be-starred restaurant, but for the tramping about the city, into and out of the bistros, it would be perfcect.

This slick boot with the wingtips from the Paul Green it can be worn with the dressier outfit, yet because of the no-slipping sole, it would keep the Manolo's friend safe from the tumble on the stones of the cobble.
0