By Manolo the Shoeblogger
Manolo say, the most recent column of the Manolo for the Express of the Washington Post it is now available for the downloading.
Again with the wedges!
Dear Manolo,

I've been visiting your blog this week and I've noticed that you've been featuring lots of beautiful, but very expensive wedges. Can you recommend something for the impoverished working girl?

Erika

Manolo says, as the readers of the Manolo's humble shoe blog know the Manolo has been completely entranced by the most fabulous wedges of this season, and indeed if the super fantastic girl she has $400 of the American dollars to spend the possibilities they are endless.

Sadly, however, not all of the Manolo's readers are so flush, and with them the Manolo cannot but sympathize, for the Manolo, he knows what it is like to be poor, so poor that you must fashion your own super fantastic glittery wedge-heeled shoes out of the shards of disco balls and broken dreams you have recovered from the dumpster behind the Studio 54.

And so the Manolo has found for his many reader friends this beautiful high-heel wedge from the Franco Sarto selling for under $100 of the American dollars. He is especially fond of the pewter metallic finish, although it is also available in the bronze, the black, and something called the "tobacco waxy calf".
Here, as the bonus for the readers for the Manolo's blog, is another attractive and affordable wedge from the Franco Sarto.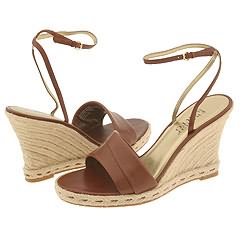 0