Manolo says, as is often the case, the email box of the Manolo it has been overflowing with the emails from the Manolo's many internet friends asking the Manolo to help them find the affordable shoes.
"Please," the internet friends of the Manolo say, "we are the poor working girls who must slave away in the hot office, hiding under the pasted-on smiles our simmering envy of the stylish women who have achieved greater success. Please help us, Manolo, we need the beautiful shoes to ease our pain, but we have no moneys. "
As always, the reply of the Manolo it is the same, that the poor working girl she must save her moneys so that she may purchase the super fantastic shoes. Also, she should strive to not feel the envy of the successful woman; for all that we know she may suffer from her own disappointments and neuroses.
In the stead it is better to focus on obtaining the beautiful shoes, for owning all of the bargain priced feetwear in the world cannot replicate the feeling one gets when wearing the single pair of the truly refined shoes. It is sublime, similar to the religious experience, only for the feets.
At the same of the time, the Manolo he knows what it is like to be poor in the summer, so poor that you must fashion your own summery white buck shoes out of the discarded ice cream wrappers, cotton candy cones, and popsicle sticks that have fallen onto the sand beneath the cracks in the boardwalk.
And so the Manolo he will help his internet friends by recommending some of the summery light-colored shoes of the Franco Sarto, shoes which sell for under $100 of the American dollars.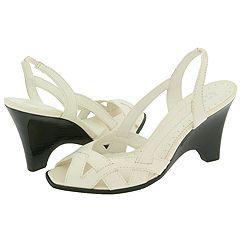 As we know the Manolo he has this season gone mad for the wedge heels, and this shoe, the Muro, it has the striking combination of the dark wedge and the white straps that the Manolo finds especially attractive.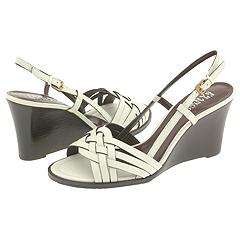 Here is another of the wedges, the Dimple, with the similar dark-below, light-on-the-top color combinations.
Finally, here is the oddly named Orator, which is shown here in the white with the blue accents, and in the unusual but very attractive color known as the celedon, the light green. Is it not limitedly perfect in its own inexpensive way?