Manolo says, one of the Manolo's internet friend has asked the question.
I have been an adoring fan for, well, years, and so, I find myself at a loss and in desperate need of fashion advice/direction/insight — in short, your wisdom. In April, I am in a wedding wearing the following dress:

As you would expect, shoes are the issue du jour. The men & the groom are wearing long sleeve navy silk shirts with trousers, so the bride fears that a silver dress sandal will be too dressy … I fear that to "match" navy is too difficult and can be too "matchy." Luckily, the bride is quite open to all ideas but is also budget minded.
Ayyyyy! We have entered the age of the Casual Friday Wedding, when brides begin to worry that the silver shoes are "too dressy" for the occasion!
Yes, the extravagant six-figure bridezilla-based wedding is to be deplored, but one should not go so far into the other direction, so that one begins to plan weddings around groomsmen dressed in Dockers and novelty t-shirts.
Perhaps, the Manolo has misunderstood, and that what his friend's friend, the bride, is asking is not if the shoes will be "too dressy" but about whether or not silver shoes are appropriate for the daytime wear.
Formerly, the golden and silver shoes were exclusively reserved for the fanciest of the evening occasions. Happily, this is no longer the case, as the widespread popularity of the metallic colored shoes has rendered them appropriate for the daytime events of festivity.
For the Manolo, this dress calls for the dressy shoes, perhaps something like this, the Markita by Vigotti, might be best.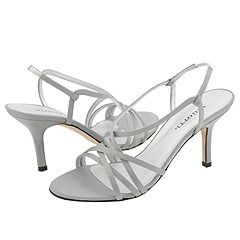 Not only is it reasonably priced, but the refined silver satin material does not have that metallic sheen that may not appeal to the demure bride. It would undoubtedly look quite smart with the knee-length navy bridesmaid dress.