Manolo says, once again the Manolo he is being besieged by the poor girls who need the help finding the affordable shoes. Letters like this one below, they are typical.
Dear Manolo,

I need shoes like a fish needs water, but I don't have any money. Please, help me.

Your devoted fan,

Diana.
As always the Manolo he tells the poor girls to save their moneys and buy the most super fantastic shoes. Nothing can compare to the confidence and pleasure one finds in wearing the beautiful, well-made shoes.
Yet, at the same of the times, the Manolo knows what it is like to be poor, so poor that you must construct your own super fantastic shoes out of the subscription inserts found in the fashion magazines you have retrieved from the dumpster behind the offices of the Conde Nast.
And so the Manolo he would recommend to his poor friends the shoes of the AK Anne Klein, as being stylish and affordable. Here are three that have especially struck the fancy of the Manolo, all of which sell for under $100 of the American dollars.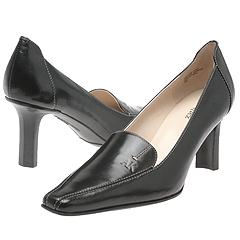 This smart high-heeled loafer, it is the handsome office shoe, one that would serve the poor girl well while she saves her moneys.
This slingback, it would be good for both the office and the dinner afterwards.

Here is the lower heeled pump that one would not be ashamed to wear to the office.
Yes, these inexpensive shoes they are undoubtedly made in the China, from leather whose provenance it is perhaps best described as "dubious", but the designs they the good, and the shoes themselves they will keep the poor girl shod until she can afford something better.
0