Manolo says, perhaps it is because it is fall here in the upside down part of the world, but the Manolo has been thinking about the boots these past few weeks.
Happily for many of the Manolo's internet friends, it is spring in the northern hemisphere, which means that many of the most handsome and wonderful boots are deeply discounted in the price.
What is that you say, "But Manolo, the summer is coming and the boots, they are hot on my feets when it is hot outside!"
To which the Manolo replies, trust the Manolo, the cold, it will return quickly enough so as to make buying the boots now seem the wise decision later.
Here are three deeply discounted boots that would work well in almost any super fantastic girl's wardrobe.

Above is the Sierra Air Tall Boot from Cole Haan, the classically stylish boot with the modern Nike technology that reputedly makes them super comfortable for the working and walking girl. Mira! They are 46% off of the usual price, the savings of more than $230 American dollars!

Here is the Danya from Taryn Rose, the handsomely practical, everyday sort of boot that can be worn almost anytime of the year. It is on the sale, 35% off of the regular price, the savings of almost $200 of the American dollars.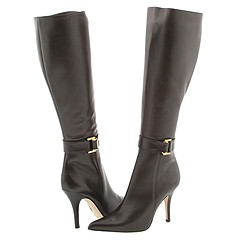 Finally, here from Micheal Kors is the super sexy, super sleek, Ava, the boot which is on sale for more than 50% off of the regular price, the savings of nearly $470 of the American dollars!